About Jocelyn
Jocelyn Prosser was born in 1964 in Toronto to a French father and a Welsh mother and holds UK and Canadian citizenship. After a family separation, she returned to Wales with her mother, later living with grandparents in Port Talbot, South Wales. At eleven, the young Jocelyn suffered the first of a number of traumas with the death of her mother, an accomplished writer and painter who had studied at Toronto University. A diagnosis of schizophrenia explained the tragedy,but the shock to her daughter was immense.
Jocelyn attended school in Port Talbot, where she showed an early interest in painting, but she did not proceed with art studies, preferring to begin a working life. She had however, already shown herself to be a collector – not only of articles which are part of her oeuvre, but of ideas and influences. There was her mother ('an artistic rebel') and an attraction to folk art – from the primitive Haitian images to Frida Kahlo whom she sees as using art to release emotional instability. Among her own eclectic primitive art collection are Shona carvings from Zimbabwe and dolls made in the 1940's. She also cites Swiss painter Paul Klee as an original with a visionary quality.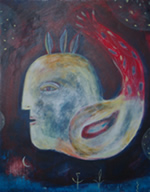 Her first real entry into the art world was in 1997, when she began to paint and exhibited in 2001. She recognises the group artcymru.co.uk for its part in helping her to gain confidence and begin more experimental projects.
In the years since, she has held three solo exhibitions and taken part in a number of group shows in Wales. Three years ago, her interest in collecting unusual keepsakes led to an invitation to produce an exhibition of jewellery, with each unique piece accompanied by a detailed history.
In 2007, Jocelyn began work on a more ambitious project in which she began to investigate strands of her art and life through compositions of seemingly unconnected articles. The result after a concentrated period of creation was Deja Vu, a number of extraordinary assemblages that the artist has made from her vast holding of objects trouves – found objects. These pieces – often set inside wooden recycled boxes and drawers – were first shown at the Washington Gallery, South Wales in Spring 2008.